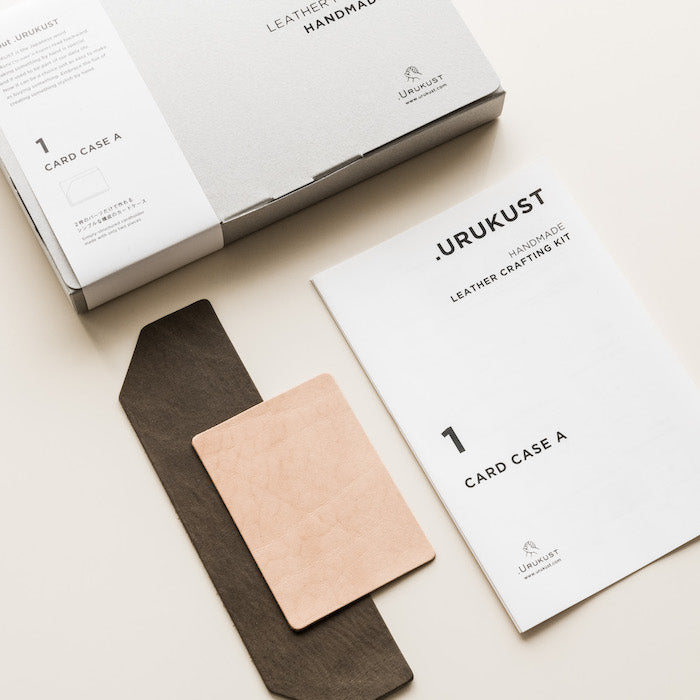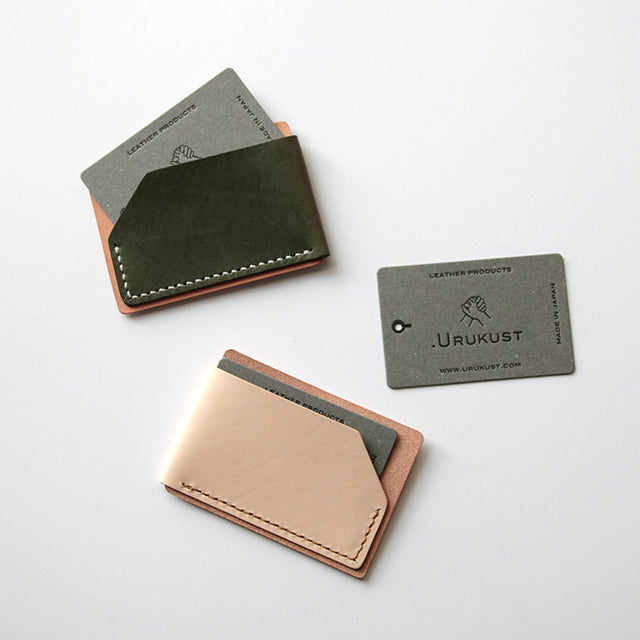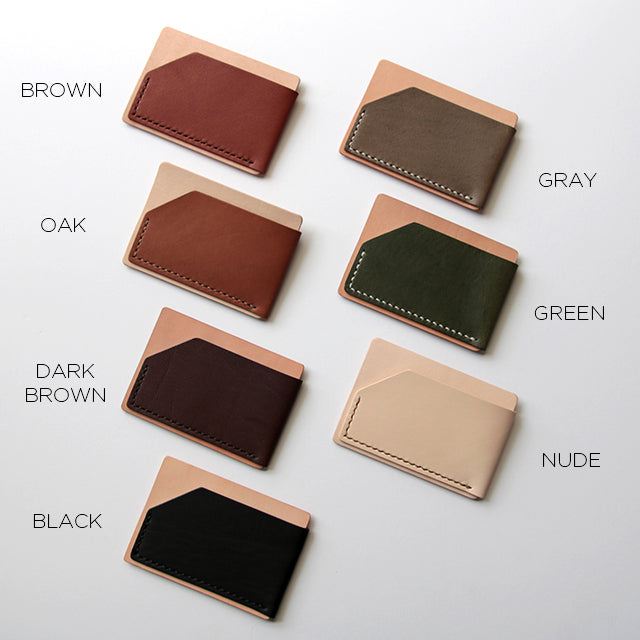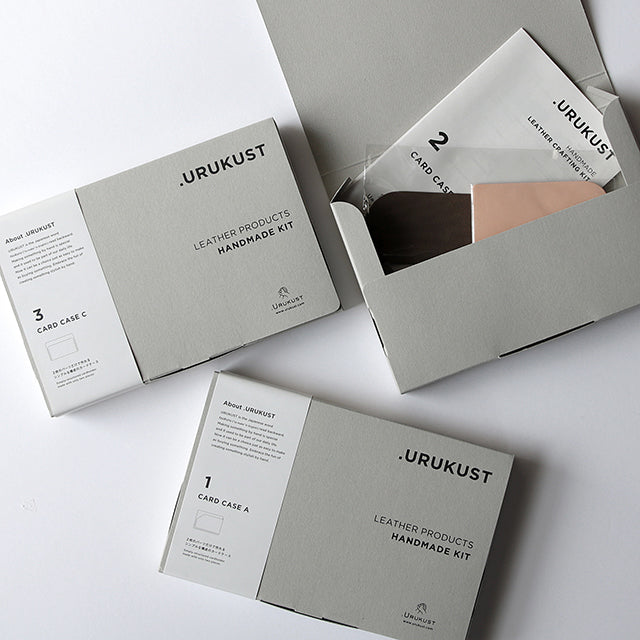 DIY cardholder kit. You can make a simply-structured cardholder with two pieces of leather. Recommended for beginners in leathercraft as it has only a few places to stitch.
This is a DIY kit. Please note that leathercraft tools are necessary to assemble the product, and be sure to read the contents carefully before purchase.
* This is a DIY kit to make the item shown on "Making Leather Bags, Wallets, and Cases: 20+ Projects with Contemporary Style" written by .URUKUST. For more details, please refer to the book.
DETAIL
CONTENTS
2 pieces of leather and instructions (Short version)* Instructions are written in both Japanese and English.
TOOLS & MATERIALS YOU WILL NEED
- Box cutter
- Ruler
- Round awl
- Glossing polish
- Plastic bone folder, creaser, or slicker
- Rubber cement
- Glue applicator stick
- Rubber mat
- Wooden mallet
- Four-pronged chisel with 4mm spacing
- 2 hand-sewing needles
- Linen thread
- Beeswax
- Scissors
- Wood glue

Finished size
W9.8×H6.8cm
MATERIAL
Body(Brown, Oak, Dark Brown, Black):.URUKUST CLASSIC LEATHER1.6mm
Body(Green, Gray):ITALIAN LEATHER1.6mm
Body(Nude):FRENCH LEATHER1.6mm

Base(Nude):FRENCH LEATHER1.2mm
Base(Others):NATURAL VEG-TANNED LEATHER 1.2mm
【.URUKUST CLASSIC LEATHER】
This leather is tanned using vegetable tannins. .URUKUST original leather is produced after extensive discussions with tanners. Japanese raw hides are used, giving it the perfect elasticity and smoothness. Treated with light oils, it is lightweight yet gives off an elegant luster with use.
【ITALIAN LEATHER】
The cowhide leather is tanned with vegetable tannins in Tuscany, Italy. Its high fiber density offers a soft and smooth texture. It melts against your hands and the luster increases with use.
【FRENCH NATURAL LEATHER】
This uncolored French cowhide is used only for nude color products, showing off the leather's natural beauty. Only French vegetable tannins can produce this pale color, not Japanese tannins. It is treated with a high quality protein-based finishing agent, which slows the color changes, compared with other types of cowhide. This pale, natural leather color will last for years to come.
【NATURAL VEG-TANNED LEATHER】
The vegetable tanned cowhide leather has no additional coloring applied so that its natural leather texture is fully appreciated. Cleaning oils, natural oils from your skin, or sunlight starts to add beautiful shades of color. You can feel it become softer as the texture changes over time.